The Directorate of Criminal Investigations has launched Investigations into acts of violence that were committed by criminals during the illegal demonstrations held on March 20, 2023.
The criminals who took advantage of the demonstrations were captured on camera destroying public property, attacking innocent members of the public and hurling projectiles at police officers who were on duty protecting life and property.
As a result, property of unknown value was destroyed while a total of 33 officers suffered injuries of various degrees and some are still recuperating at various hospitals in the city. A firearm whose magazine was loaded with 15 rounds of 9mm calibre was also lost by one of our officers, after he was attacked by a gang of a well coordinated riotous mob, as the officers prevented destruction of public property in Embakasi area of Nairobi County. In this regard, the Directorate of Criminal Investigations cautions members of the public that while the right to assemble, picket and petition is enshrined in our constitution, these rights should be exercised with civility and should not infringe on the rights of others. Meanwhile, the Directorate is currently on a manhunt for the suspects whose images appear below as others are being gathered and shall be updated, who will face charges ranging from robbery with violence, malicious damage to public property and assault among other allied offences.
We are appealing to members of the public to volunteer information that may lead to their arrest through our
#FichuakwaDCI
toll free number 0800 722 203. Alternatively, the suspects are requested to present themselves at the Serious Crimes offices based at DCI headquarters along
Below are the photos of demonstration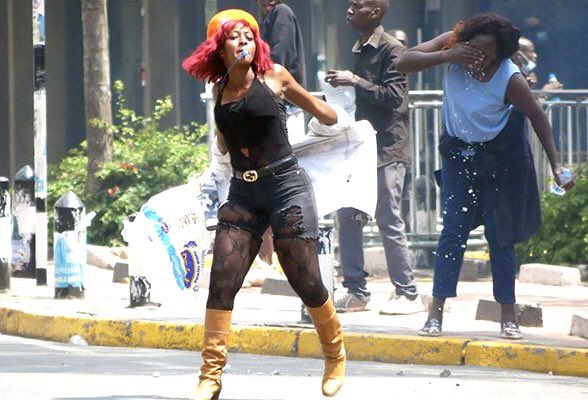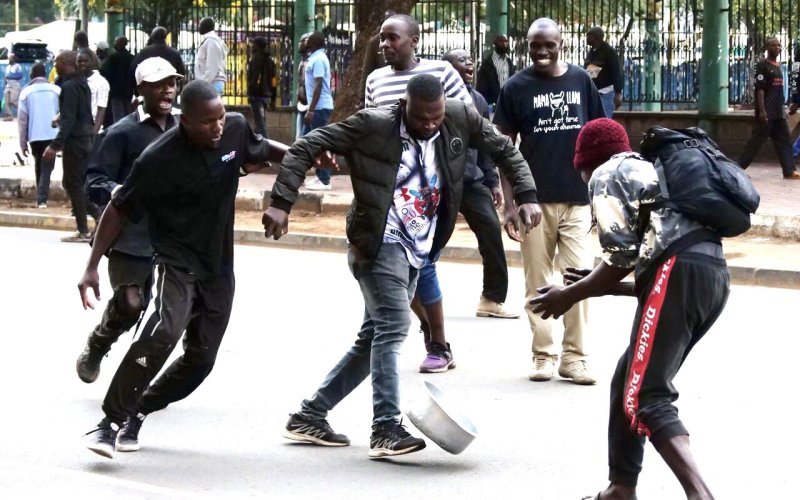 Here are some of Kenyans reactions
Mutisya Kamene :
This is commendable. Hope you will also displine the police officers who mishandled the public by using excessive force to those who were demonstrating peacefully. If the two sided coin is addressed, we will be good to go and have a better Kenya
My Mind:
In that case you should arrest all the thousands of people demonstrating since it was 'llegal' . Ever wondered why the police is the most corrupt department in Kenya? Now come and arrest me also, clowns! I was not in the demonstrations but I will be in the one on Monday, you people are really taking us for a ride, huh!
Vincent:
Bora monday polisi wasiingilie peaceful demonstration yetu Monday na Thursday….
Methuselah254
:So this is a crime according to DCI
Son of Ochanyo:
How is the person in the first frame a criminal? Or what property os he destroying?
mylessekani:
You guys just silenced on Jeff Mwathis Case!!!!!!
Gabriel:
i will now join demos, people are dying for lack of food while you are busy doing politics. Wasted pages in our constitiution !!
Ramadha:
Bandits are on a killing spree, everyday we get reports of upto 3 people being killed. The reports we don't get are those of bandits being killed or captured. It is time the government deploy a full blown operation similar to that of Mt Elgon Operation Okoa Maisha.
j2blest:
When dealing with drug menace YOU DO NOT go for the JUNKY in the street with one needle in his arm. NO. You go for the BIG FISH who IMPORTS and DISTRIBUTES. FORGET about these SMALL BOYS who do not know their right hand from their left. Go for the ORGANIZERS and FINANCIERS.
Hakika Ruben:
Loosing a firearm by a police officer is due to their carelessness. It is not like it was stolen
jabati:
Where is the violence in this photo?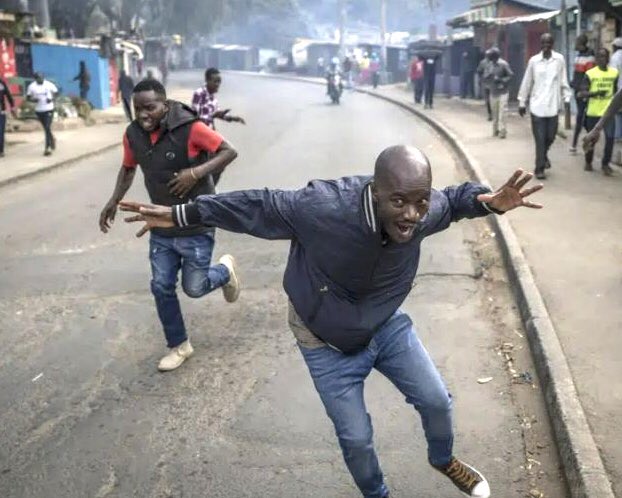 Last edited: