Just three days ahead the man decided to call of the wedding ceremony he prepared for a long time.
Reason behind; a woman was still cheating even though she knows that she was about to enter into holy matrimony.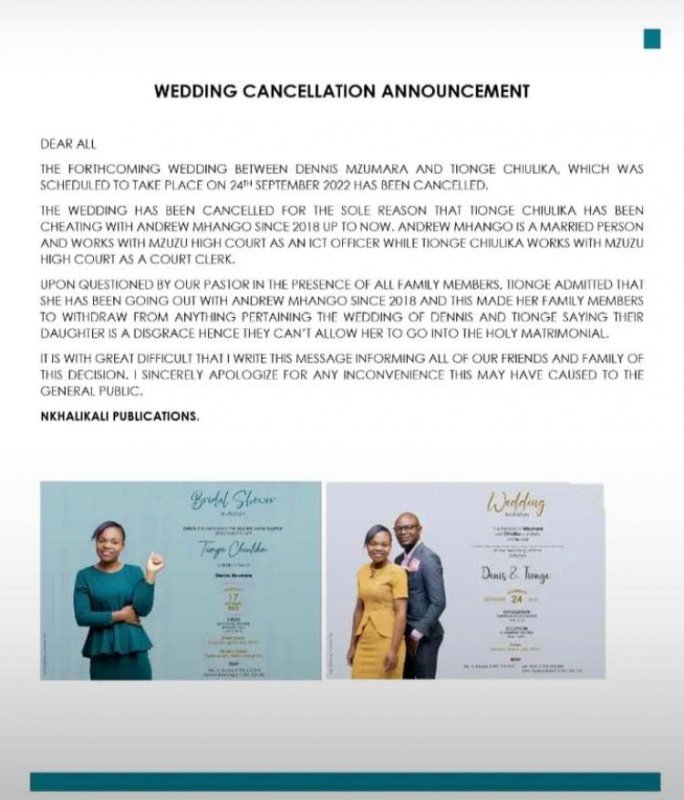 WEDDING CANCELLATION ANNOUNCEMENT
DEAR ALL
THE FORTHCOMING WEDDING BETWEEN DENNIS MZUMARA AND TIONGE CHIULIKA, WHICH WAS SCHEDULED TO TAKE PLACE ON 24TH SEPTEMBER 2022 HAS BEEN CANCELLED.
THE WEDDING HAS BEEN CANCELLED FOR THE SOLE REASON THAT HONGE CHIULIKA HAS BEEN CHEATING WITH ANDREW MHANGO SINCE 2018 UP TO NOW. ANDREW MHANGO IS A MARRIED PERSON AND WORKS WITH MZUZU HIGH COURT AS AN ICT OFFICER WHILE TIONGE CHIULIKA WORKS WITH MZUZU HIGH COURT AS A COURT CLERK.
UPON QUESTIONED BY OUR PASTOR IN THE PRESENCE OF ALL FAMILY MEMBERS, TIONGE ADMITTED THAT SHE HAS BEEN GOING OUT WITH ANDREW MHANGO SINCE 2018 AND THIS MADE HER FAMILY MEMBERS TO WITHDRAW FROM ANYTHING PERTAINING THE WEDDING OF DENNIS AND TIONGE SAYING THEIR DAUGHTER IS A DISGRACE HENCE THEY CAN'T ALLOW HER TO GO INTO THE HOLY MATRIMONIAL.
IT IS WITH GREAT DIFFICULT THAT I WRITE THIS MESSAGE INFORMING ALL OF OUR FRIENDS AND FAMILY OF THIS DECISION. SINCERELY APOLOGIZE FOR ANY INCONVENIENCE THIS MAY HAVE CAUSED TO THE GENERAL PUBLIC.
NKHALIKALI PUBLICATIONS.